About New Zealand
New Zealand has big and beautiful scenery almost everywhere you turn – "jaw-dropping" and "mind-boggling" are well used terms but in all fairness, they are quite appropriate. There is marine life, birdlife and plants you will see nowhere else on the Earth.
For many of us, New Zealand provides a rare opportunity to enjoy a real sense of space, peace and solitude — New Zealand is roughly the same size as the UK but has only 7% of the population and even then, nearly a third of them live in Auckland.   There is just about no traffic on the roads outside of the bigger towns and cities and not an M6 or M25 in sight — a five hour drive in New Zealand is an absolute pleasure with a different view around every corner.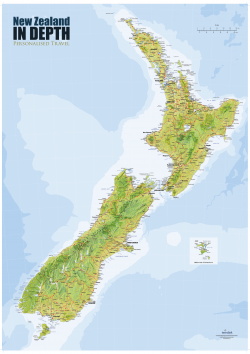 New Zealanders are friendly people who will take the time to talk to you, with a very British sense of humour. There is a notable lack of stress and formality in New Zealand, dress codes even for restaurants err towards smart casual. This genuine and relaxed attitude to life will leave you feeling part of the place even though you are as far from home as you can get.
There is a passion for superb food whether you are eating in a little café in the back of beyond, one of the country's finest city centre restaurants or at your accommodation. On your New Zealand adventure you will discover fine wine, craft beer and an almost obsessive passion for good coffee.
In terms of weather, there is a commonly held belief, particularly in the Northern Hemisphere, that New Zealand is almost anchored off Antarctica. New Zealand is actually much further north than it looks on a map, so warmer than you'd expect.
New Zealand has as wide range of climates from Mediterranean in the Northland to cool, temperate and wet in Fiordland. The Antipodes of the capital Wellington is Madrid, Spain and Northland is Tangier in Morocco. Even Stewart Island in the far south of New Zealand shares the equivalent latitude in the northern hemisphere of Lake Como in Italy, so it is a much more temperate climate than expected. The climate is moderated by the Pacific Ocean, so it is quite temperate all year round without too many extremes, but there are obvious variations according to geography.
Contact us to request a high resolution PDF of our map. Alternatively we can send you one in the post.
Contact us for a map of New Zealand