Annandale open for romance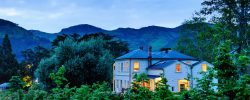 Couples can now book a suite in Annandale's historic Homestead.
Experts at New Zealand In Depth have announced that one of New Zealand's most romantic and exclusive lodges, Annandale's historic Homestead, is opening up to couples as they release individual suites for guests to book on a nightly basis for the first time – and just in time for a valentine's break!
"This is a stunning property built in the 1880s and lovingly restored into one of the most exclusive and sought-after accommodation in New Zealand," says Sally Lilley, director at specialist travel company New Zealand In Depth. "The ability for guests to book a suite is an exciting development for those travelling to experience this spectacular property, without having to book the whole thing on an exclusive basis."
The historic homestead can be found on the eastern shore of Pigeon Bay located on the Banks Peninsula in New Zealand. This lovingly restored, luxurious homestead is elegantly decorated by international designer, John Staub, and transports you back to a gracious era with a formal yet relaxed atmosphere.
Four en-suite master bedrooms all have spectacular views of the gardens, bay and Annandale farm, with balcony access from three of them.
The property also features manicured gardens, a floodlit tennis court, a heated infinity swimming pool, a large hot pool, a well-equipped gym and a modern outdoor fireplace and pizza oven to keep warm as the evening draws in.
A stay at the Annandale Homestead includes a delicious dinner served at a set time either at a shared table in the formal dining room or a casual table in the kitchen where you can watch the Chefs at work. Alternatively, you could opt for a romantic, secluded dinner on your own balcony to enjoy at your leisure.
Until now, Annandale's historic Homestead has only been available to book on an exclusive basis, however, from February 16th 2020 guests can book an individual suite on a dinner, bed and breakfast basis, opening up this property to a wider range of couples and small groups.
Sally Lilley added; "The homestead delivers a very special experience, perfect to share with a loved one or on a special occasion. You literally feel transported to a time of elegance and formal sophistication, yet the relaxed atmosphere allows you to destress and unwind."
Annandale's historic Homestead is available from February 16th to December 14th and is recommended to combine with a 14-day New Zealand adventure with New Zealand In Depth (www.newzealnd-indepth.co.uk) costing from £5,800 per person excluding international flights. This includes 13 night's accommodation in New Zealand including 3 nights including Dinner Bed & Breakfast at The Homestead, Annandale, car hire and 7 nights in other luxury lodges around the South Island.
For more information and expert advice on travel to New Zealand, visit www.newzealand-indepth.co.uk, call +44 (0)1298 74040 or email [email protected]
Sway Communications Ltd
(m) +44 (0) 7731 752 096
(t) +44 (0) 161 973 4948