Clyde Strikes Gold again with new luxury accommodation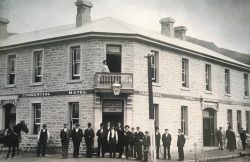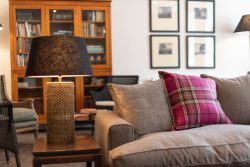 The small town of Clyde in New Zealand is tapping into its gold rush heritage and wilderness location to offer the discerning visitor something new when exploring New Zealand's South Island.  
Travel experts at New Zealand In Depth have been keeping a close eye on this corner of Central Otago as new luxury accommodation and dining experiences are opening allowing the luxury visitor to get a taste of the goldrush era gone by. New Zealand In Depth director Sally Lilly, said; "Formerly known as Dunstan, Clyde has just over 1000 residents, but was once the most populous town in New Zealand during the height of gold fever in the 1860s. Now its emerging once more as a centre for adventure, cycling, walking and wine!"
The Lord Clyde, has just opened its doors for guests in January 2020, is now offering a new sophisticated, luxury accommodation for visitors, along with its fascinating history.
The new Lord Clyde lodge includes nine new en-suite bedrooms each individually named after historical figures who've shaped the regions history. Each room blends elegant interiors with style and comfort ranging from Classic to the Premier in standard. Large shuttered windows bathe each of the rooms in light, while gracious décor with a timeless mix of contemporary and classic furnishings complete its luxurious setting.
Sally Lilley, director at New Zealand In Depth adds; "Accommodation has been offered on the site of the new lodge for over 150 years starting with the canvas and wood 'Hotel United States' in 1862; to the more substantial 'Port Philip Hotel' in 1868; and finally the impressive two-storied stone building of today which was built in 1903. You can feel the history of the building as soon as you enter, yet it has been renovated into a warm, welcoming, luxury accommodation that we are now recommending to guests."
The Lord Clyde joins Olivers Lodge and Stables and Olivers Restaurant in the town to complete a new historic luxury holiday experience in Clyde. The former 1869 general store was converted into 11 rooms across the stables and lodge areas in a sensitive restoration by owners Andrea and David Ritchie.
Billed as 'one of Central Otago's hidden gems', Clyde is a former goldrush town that boasts perfectly preserved buildings from the late 19th century.
The Central Otago region is also a huge draw for adventure seekers who come for the skiing, hiking, bungee-jumping and cycling.
For those in to cycling and walking, the Otago Central Rail Trail, one of New Zealand's Original Great Rides, is a track that is open all year round running through mountains and old gold-mining settlements for 93 miles (150km) along the former railway route from Middlemarch to Clyde. Sally Lilley from New Zealand In Depth adds; "The village itself is perfect to explore on foot with its original stone walls and charming shop fronts including the original Town Hall, Dunstan Times Building and Dunstan Hotel."
A final draw for visitors to the new accommodation are the abundant vineyards and stone fruit orchards, a result of the regional weather being particularly warm and dry due to the rain shadow effect caused by the Southern Alps.
The new Lord Clyde accommodation is recommended to combine with a 14-day New Zealand adventure with New Zealand In Depth (www.newzealand-indepth.co.uk) costing from £1000 per person based on 2 people travelling, excluding international flights. This includes 14 nights accommodation in a range of B&B's, Lodges and Hotels and car hire.
For more information and expert advice on travel to New Zealand, visit www.newzealand-indepth.co.uk, call +44 (0)1298 74040 or email [email protected]
Sway Communications Ltd
(m) +44 (0) 7731 752 096
(t) +44 (0) 161 973 4948