Experiences For Thrill Seekers In New Zealand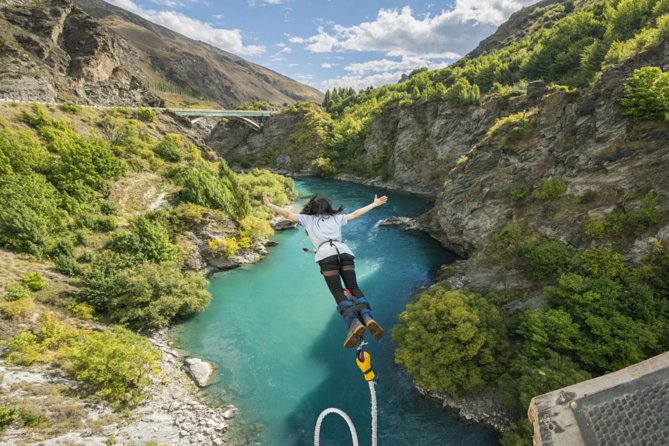 New Zealand is a paradise for thrill-seekers. The country is blessed with natural wonders that offer a wide range of adventurous experiences.
Take a look at some of the adventures waiting for you on your next holiday to New Zealand. Whether you're looking to glide above glaciers, speed across lakes, or jump from great heights, we have the perfect set of adrenaline-pumping experiences for you!
AJ Hackett Bungy New Zealand
New Zealand is known as the birthplace of bungee jumping. The first commercial bungee jump was done here in 1988, and since then, it has become one of the most popular extreme sports in the country. Queenstown is the home of bungee jumping in New Zealand, and it offers a range of jumps from 43 meters to a whopping 134 meters.
AJ Hackett Bungy New Zealand is the pioneer of commercial bungee jumping and one of the most iconic adventure companies in the world. They offer a range of bungee jumping experiences, including the famous 134-meter Nevis Bungy, which is one of the highest bungee jumps in the world. The company also offers other activities such as the Nevis Swing, the world's biggest swing, and the Ledge Sky Swing in Queenstown.
Wairaurahiri Jet
Jet boats are specially designed to navigate through shallow and fast-flowing water, making them perfect for exploring New Zealand's rivers and lakes. The boats are powered by jet propulsion, which enables them to reach high speeds and perform 360-degree spins and other adrenaline-pumping manoeuvres.
Wairaurahiri Jet is a thrilling adventure that takes visitors on a high-speed jet boat ride through the wild and remote Wairaurahiri River in New Zealand's South Island. The river is known for its rugged beauty and challenging rapids, making it a popular destination for thrill-seekers. The ride starts at Lake Hauroko, New Zealand's deepest lake, and travels through dense rainforests, towering waterfalls, and steep cliff faces. Along the way, visitors may spot native birds, such as kaka and tui. The journey culminates with an exhilarating descent through the Wairaurahiri Falls, which drops 27 meters into the river below.
Fiordland Helicopters
Fiordland Helicopters offers a unique and luxurious way to explore New Zealand's breathtaking Fiordland National Park. The company provides scenic helicopter tours of the park, which includes some of the most stunning scenery in the country, including majestic waterfalls, ancient rainforests, and glacier-carved fiords. Fiordland Helicopters also offers exclusive tours that allow visitors to land in remote locations, such as on glaciers or mountaintops, and enjoy a picnic lunch or a glass of champagne while taking in the incredible views.
The pilots are highly experienced and knowledgeable about the area and provide commentary throughout the tours. The company's focus on luxury and exclusivity makes it an ideal choice for couples or groups who are looking for a unique and unforgettable experience in one of New Zealand's most spectacular locations.
Wings Over Whales Kaikoura
Wings Over Whales is a unique and unforgettable experience in Kaikoura, New Zealand, that allows visitors to see the majestic whales up close from the sky. The activity involves a scenic flight in a small plane that takes off from Kaikoura's airport and flies over the stunning coastline and ocean. Once the plane reaches the sea, visitors can spot the magnificent sperm whales in their natural habitat.
The activity is also eco-friendly, and the company works closely with marine conservation organizations to ensure that the whales and their habitat are protected. Wings Over Whales is a fantastic way to witness the beauty of these gentle giants from a unique perspective and create lifelong memories.
New Zealand offers some of the most incredible experiences for thrill-seekers. Whether you want to jump off a bridge, ski down a mountain, or explore a glacier, there is something for everyone. So, pack your bags and head to New Zealand for an unforgettable adventure that will get your adrenaline pumping.