New Zealand In Depth voted Best Specialist Tour Operator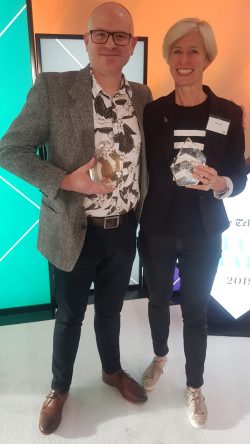 CAPTION: Paul Carberry (New Zealand In Depth) and Pip Casey (Tourism New Zealand)
New Zealand In Depth, a specialist New Zealand travel company based in Buxton, England, has been voted the Best Specialist Tour Operator by Telegraph readers across the UK.
This huge achievement comes as the team of New Zealand travel specialists has grown to manage a period of steady growth in luxury travel to the country from the UK, and around the world.
"We started the business with the view of creating the best possible travel experiences, something that continues with us today as we develop personalised itineraries to New Zealand using experienced advisors who have travelled, and lived in, New Zealand," adds Paul Carberry, founder of New Zealand In Depth. "It is a real honour to be recognised through this award, which only goes to drive us to find and offer the best, most interesting, authentic, sustainable experiences New Zealand has to offer.
The awards team at the Telegraph sited that New Zealand In Depth "takes a distinctive approach to customer service. Individual bookings are looked after by the same member of staff from the outset and that person is responsible for honing and then delivering the itinerary."
They also added, "…in short, it is the model of how a specialist tour operator should work, and it has clearly impressed Telegraph readers over the last year and more."
The awards were a double with for those planning a trip to the country with New Zealand winning the best destination category for the seventh year running.
For more information and expert advice on travel to New Zealand, visit www.newzealand-indepth.co.uk, call +44 (0)1298 74040 or email [email protected]
-ENDS-
New Zealand In Depth media contact:
Mark Hayward
Tel: 07731 752 096
Email: [email protected]
Notes to editor:
High res images are available here: https://www.dropbox.com/sh/l8h40t3j0c2bo81/AACb8X2dSpqZ9jx5q3rT7SQca?dl=0
About New Zealand In Depth
The award winning New Zealand In Depth team has created tailor-made holiday experiences to New Zealand for decades and are committed to understanding their client's needs, sharing their expert knowledge and experience of the country and planning trips that leave lasting memories.
New Zealand In Depth has built great relationships with local activities, accommodation and suppliers to offer their clients the chance to experience the real side of New Zealand and get off the beaten track to experiences that are often not available through other operators.
About Paul Carberry – founder of New Zealand In Depth
"I think it was inevitable that I would work in travel and focus on New Zealand in particular. My dad worked in the airline industry for many years for the likes of BOAC, British Airways and then Air New Zealand before he set up his own long-haul travel business.
I had the excitement of growing up imagining travel to distant lands and, after completing a degree in geology and working in the family travel business for a couple of years, I left the UK and spent several months exploring New Zealand returning to set up my own New Zealand travel company in 2003.
Since then I have been fortunate to have been able to travel back to New Zealand many times, feeling that is more and more like home every time I go."
About Sally Lilley – Travel specialist at New Zealand In Depth
"I met John (my partner) in 1999 and after 20 years in the Financial Services industry jumped at the chance to take 12 months off and travel around the world as a mature backpacker. On returning to the UK in 2001 I worked for a number of organisations in the charity and hospitality sector before deciding New Zealand was where we wanted to live.
John & I emigrated to New Zealand in 2003 and entered the world of hospitality and tourism. Over the next seven years we ran a number of remote Lodges on the South Island including Milford Sound, Lake Moeraki and Arthurs Pass and in 2010 we took over a small group guided tour company based in Christchurch.
We spent the next four years guiding small groups around New Zealand ensuring they had a trip of a lifetime. After 11 years in New Zealand we moved back to the UK for family reasons and now have the pleasure of sending visitors to New Zealand to enjoy all my favourite places – many of which you will not find in the guide books."