Where we've been featured
We've been featured in a variety of places across all different types of media. Below you can find a selection of the different people and places that have featured something about us.

In December 2019 The Times ran an article about us launching the "All Blacks Experience" at SkyCity in Auckland.   You can read the article by clicking the image below.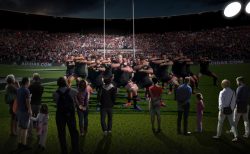 In November 2019 we were proud to be awarded Best Specialist Tour Operator by the   Telegraph Travel Awards.   New Zealand was also nominated Best Country for the 7th year in a row!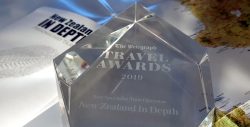 In July 2019 Paul was quoted in a Lonely Planet article on the opening of the Hump Ridge Track, New Zealand's newest Great Walk New Zealand's newest Great Walk is the Hump Ridge Track on the South Island
In October 2019 Sally introduced the Lindis Pods in Lonely Planet   https://www.lonelyplanet.com/articles/mirrored-pods-in-new-zealand   (The Lindis Pods were also featured in Drift Travel  https://drifttravel.com/new-luxury-mirrored-pods-open-at-lindis/ and Luxepose   https://luxexpose.com/the-lindis-debuts-luxury-mirrored-pods-for-astro-tourism-seekers/)

Sally introduced the new Lindis Pods in the Mirror in October 2019   https://www.mirror.co.uk/travel/australia-new-zealand/inside-luxury-glamping-pods-disappear-20395535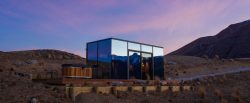 Our new tour to a lake on island – on a lake on an island was featured in the Metro newspaper in July 2019.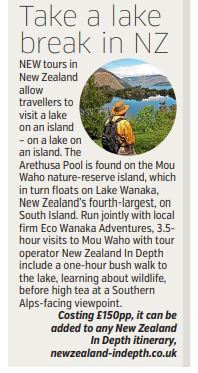 A trip we organised for Jenny Agutter featured on the front page of The Telegraph Travel in January 2018.   Jenny Agutter Tackles the Wilds of New Zealand's South Island in The Sunday Telegraph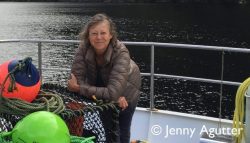 In July 2017 we helped Telegraph journalist Richards Madden visit some of New Zealand's most remote and beautiful places New Zealand In Depth's Retreats Without Roads article in The Telegraph.    The Telegraph  have also featured a spotlight article on New Zealand as a holiday destination and, naturally, we were featured as part of this New Zealand In Depth in The Telegraph

The Independent quoted Paul Carberry, New Zealand In Depth's founder, in an article on a proposed "Tourism Tax" New Zealand In Depth in The Independent

In January 2016 we helped FT journalist Mark Jones visit New Zealand's Luxury Lodges:   Financial Times Jan 2016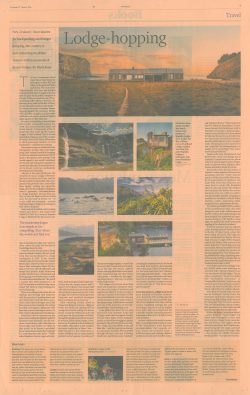 Adventure Travel Magazine  ran a special feature on mountain biking in different parts of the world. When it came time for them to cover mountain biking in New Zealand, we were the natural choice of New Zealand experts to advise them. We were featured in the July/August 2014 issue.

In December 2015 were approached by  Wanderlust Travel Magazine  to work together to gather location ideas for an exceptional self-drive holiday across New Zealand. You can read our Wanderlust's article using the link below: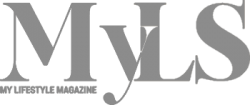 My Lifestyle Magainze liked our Predator Free NZ Itinerary and Retreats without Roads Itinerary   itineraries so much they ran both of them!  Click on the link below to read the article:

TTG Luxury's Winter 2014 issue features a highlight piece  on our 'Luxury Travel with a Conscience' packages, all of which provide amazing opportunities to travel to New Zealand on a holiday that supports eco-friendly projects.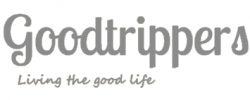 The fine folks at  Goodtrippers  were kind enough to feature us in both their newsletter and their blog, once again celebrated our 'Luxury Travel with a Conscience' New Zealand holiday packages. You click below to read both pieces:

We were happy to be featured in the  July 2015  issues of  The Cheshire Magazine. Taking pride of place at the start of their 'Travel' section with a five-page spread focusing on how New Zealand is more than a 'Once In A Lifetime' destination.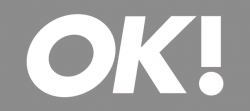 To coincide with the release of the final  Hobbit  film,  OK! Magazine  featured a travel spotlight on New Zealand as a holiday destination. We were there first recommendation when it came to putting together tailor-made holiday experiences for their readers.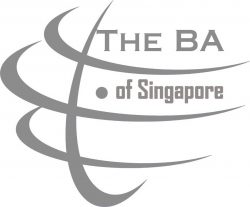 The British Association Magazine ran a feature focusing on Queenstown, New Zealand and it's diverse range of attractions. Once again, we were the magazine's first choice to provide their readers with tailor made New Zealand holiday experiences.

Health & Fitness magazine put together a special feature that focused on the Aro Ha beauty spa as their 'Spa of the Month'. Given our status as New Zealand holiday experts, we were happy to reccommend a Wellness Adventure retreat for the magazine's feature.
We booked H&F's art director, Lucy Pinto, with an unforgettable cycling holiday. The journey took her all the way from  Mount Cook  to  Friendly Bay  in North  Otago.
Get in touch